Accessories Fashion Trends for Fall and Winter
Views : 75
Update time : 2021-01-23 10:10:27
Accessories can make or break an outfit.

So, make sure that every single one of your accessories is the right one.

Thankfully, though, the world's top designers are offering us all kinds of fresh, creative accessories.
So, if you're ready for some fresh accessories inspiration, check out our collection of the best accessories trends for 2021.
The body jewelry
One word that comes to mind a lot at different fashion weeks is "body armor."
While most of the pieces were delicate enough to qualify as ordinary clothing (even though they were made of metal and often encrusted with jewelry), others were slightly more refined and suited to the fall 2021 accessories trend.
At Dilara Findikoglu, a model wears body jewelry made of silver chains on her shoulders, with two twisted circles that hang from her body like a bra, then a thinner chain is tied around her waist, with more chains hanging from the bottom.
Rokh showed off a set of chains made up of two belts -- one at the waist and the other held diagonally on the torso.
Y/Project, Area and Alexander McQueen also showcased jewelry designs as body armor.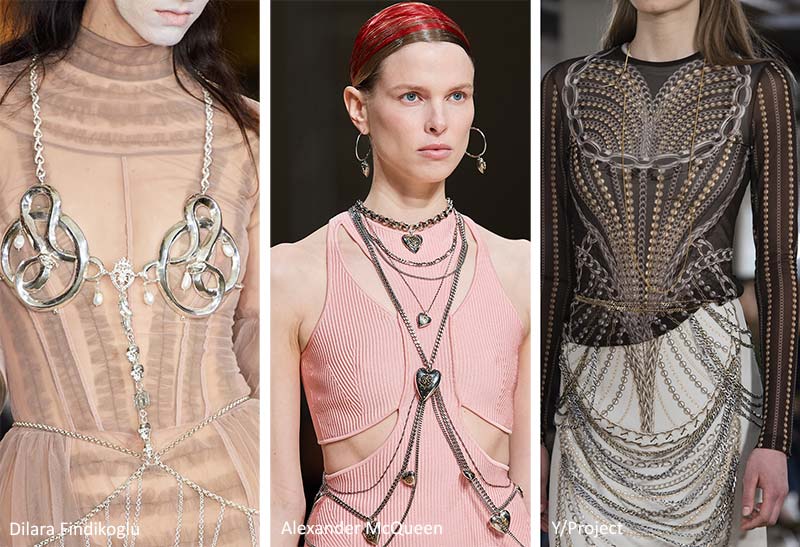 An ostentatious cross
Religion was a major theme on all the runways, and it has also influenced the 2020-2021 fall/winter accessories trend, particularly in the form of oversized crosses.
Chanel's cross is perhaps the most memorable.
The squat crosses, made from costume jewelry, appear on necklaces and bracelets, and even have the CC logo in the middle.
Gucci's large metal crosses, hung from ears and long chains, added to the puritanical feel of the show, though we think they will be welcomed by more flaunt wealth fashionistas in the coming months.
Tassel
There were a lot of tassels on the runway, echoing the tassel jewelry of 2021.
Prada's tassels aren't very luxurious.
This trend is epitomized by colorful and fun collars made of thin metallic leather, from which hang beaded tassels in pastel colors.
Paco Rabanne's tassels, by contrast, stand out and adorn the edges of metal scarves and headscarves.
We're also seeing more tasseled jewelry and accessories at Celine and Salvatore Ferragamo.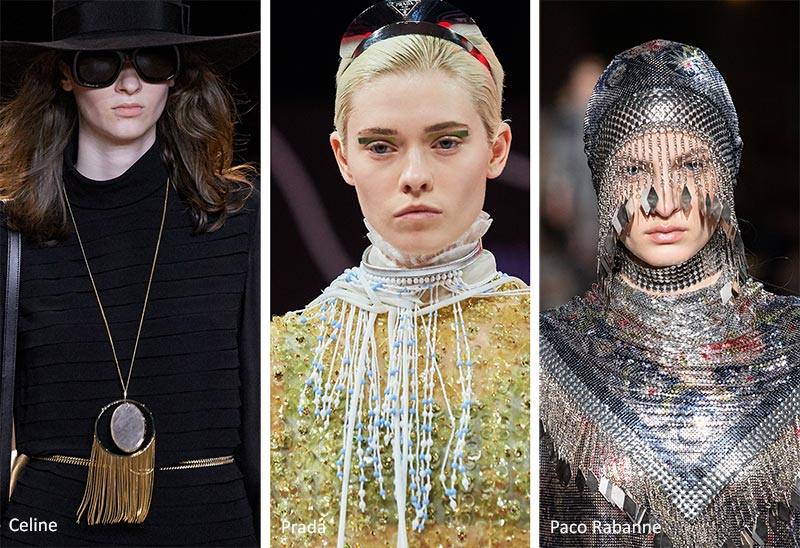 The wide belt
In 2020-2021 autumn winter acts the role of article in popular trend, wide bundle waist belt, adumbrative an important era is coming.
At Rochas, the square buttons and long-tailed belts are mostly used to tie coats, but they also help give shape to flowing dresses.
The Saint Laurent belt is a fashion statement, and many of the belts this season have slightly thicker designs and larger buckles than usual.
Finally, at Elie Saab, the belt is a small shape, designed somewhat like a Japanese obi belt, with a layer of black string tied over a wider, slightly curved belt.